Removing existing settled and outdated concrete and brick.
Updated and replaced hardscaping stone product including a warranty
Existing backyard, overgrown poor grass seed, existing hillside needs support with retaining wall.
New lawn renovation cleared undesirable trees, brush and vegetation. Installed new retaining wall to support the hillside
Construction of the retaining wall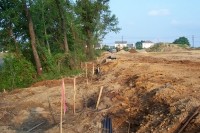 Future large retaining wall supporting parking lot, excavation and grading phase
Completion of retaining wall approximately 9 to 10 feet tall, 400-500 feet long.